Rosamond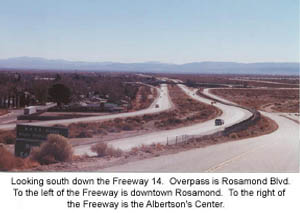 Rosamond, located 10 miles north of Lancaster up the Antelope Valley Freeway, is a rural bedroom community with burgeoning commercial development. Rosamond is located in Kern County, just north of Ave A, the Los Angeles-Kern County border. Rosamond, which is an unincorporated town, had a year 2000 population census of 20,000, and is situated at 2,330 feet above sea level. This makes it "high desert" and gives it 4 seasons with a low temperature of 30 degrees in the winter, and the highs reaching the low 100's in the summer.
Rosamond's Proximity to Other Cities
Lancaster ...............................10 miles
Palmdale .................................18 miles
Edwards Air Force Base.........15 miles
Los Angeles ...........................87 miles
Bakersfield .............................82 miles
Las Vegas .............................243 miles

Agricultural cultivation in the area includes the growing of sugar beets, onions, alfalfa, and carrots as the principle crops.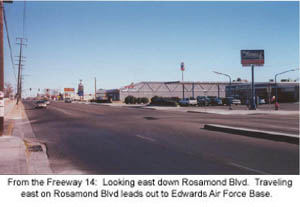 Rosamond has an interesting blend of rural homes on acreage and suburban-like subdivisions. This includes Rosamond Skypark which is a fly-in community where each home has its own private airplane hanger and a taxi-way that leads out to Rosamond's airport. Rosamond Airport has a surfaced 3,600 foot runway with a self-service gas station for airplanes.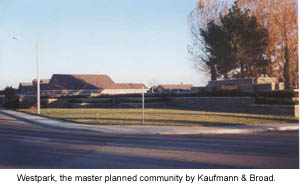 In the 1980's, high profile home builders, such as Barrat Homes and Kaufman & Broad, were attracted to Rosamond. Kaufman & Broad has developed WestPark, a master planned community of homes, a school, and a park. WestPark is located on 40th St West, south of Rosamond Blvd. Rosamond has tract homes and custom homes in the central area of town; and west of town, country homes on acreage
Since the 1980's, hundreds of homes of homes have been built, which is a process still on-going. Rosamond is the leader of the Antelope Valley in the category of affordable housing. Projections based on the number of houses on the drawing board could have Rosamond's population doubling over the next 5 years.
This explosive residential growth has spurred commercial development. In the early 1990's Albertson's Market agreed to be the anchor tenant in a new shopping center, just west of the freeway. Since that time, Rite Aid and Radio Shack have opened too. Antelope Valley Bank has also located in Rosamond. There are still over 1,000 acres available in Rosamond for commercial or industrial development.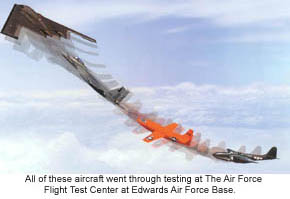 Rosamond is often referred to as the Gateway to Edwards Air Force Base. From the AV Freeway 14, if one goes east on Rosamond Blvd., the boulevard will lead out to the west entrance of EAFB. This close proximity to the Edwards has lead some service men to live off base. Edwards Air Force Base has a storied history: in 1942, the US's first jet was flown here, it is where Chuck Yeager first broke the sound barrier in 1947, where the US Space Program was born (as portrayed in the movie "The Right Stuff"), and where the first Space Shuttles returned to earth in the 1980's. In July of 2000, Edwards opened its new Air Force Flight Test Center Museum, which includes numerous replica test aircraft, a 40 seat theater, research library, and, of course, a gift shop. Edwards also hosts an annual Air Show which attracts 200,000 to 300,000 people.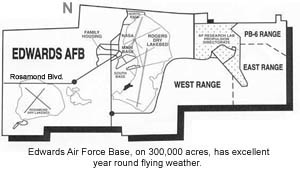 During the base closures of the 1990's, Edwards Air Force Base actually grew in population from absorbing other base closures. Edwards Air Force Base has an approximate civilian and military day time work force of 20,600 that has a combined annual payroll of $400M. EAFB, due to its size, location, weather (360 flying days per year), and accessibility to aerospace contractors (in Palmdale), is a vital link in the testing of the nation's next generation of aircraft and weapon systems. The Jet Propulsion Lab, now called the Astronautics Lab, is located in the south- eastern corner of EAFB.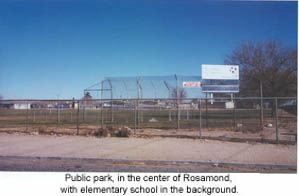 Rosamond has two public parks, one with a pool, while the other provides fields for sports activities. The parks include play equipment for children and picnic areas.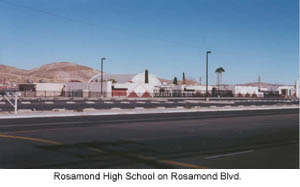 Schools in the Rosamond area of part of the Southern Kern Unified School District which encompasses 298 square miles, and has grades Kindergarten through 12. A two year community college, Antelope Valley College, is located only 10 miles away in Lancaster, and now provides some 4 year courses of study through Cal State University Bakersfield.
Rosamond Points of Interest
Willow Springs Raceway- located on Rosamond Blvd, at 70th St West. Holds various
types of races year round- Stock Cars, Formula Cars, Motorcycles, Karts, and Indy
Cars. Attracts 25,000 people per weekend.




Tropico Gold Mine- gold was found and mined here starting in 1896. At one assays
went as high as $100,000 per ton. No longer an active mine, Tropico Gold Mine is
clearly visible on the hillside, north of Rosamond Blvd., at about 55th St West.




Willow Spring Stagecoach Stop- foreground shows the saloon and restaurant where
passengers rested, while in the background, the livery prepared fresh horses for the
next leg of the journey. Stagecoach passenger service ended in 1874.


Gem Hill-a Mecca for rockhounds, located 4 miles north of Rosamond Blvd, and
west of Mojave-Tropico Road.


International Chili Society World Championship Chile Cookoff- Held every fall at the
Tropico Gold Mine Site. Attracts thousands from all over the world.


Exotic Feline Breeding Compound- a living museum of tigers, leopards, cougars, and
lions. Open to the public. Located on Rhyolite St., off of Tropico-Mojave Road.
Attracts 60,000 per year